Swim&Sun: Buergerausee Kuchl
Do you know the Buergerausee in Kuchl? NOOOOOO? Well, than it is Höchste Eisenbahn, as we like to say in German.
I will take you to a real insider place just in the beautiful surroundings of Salzburg. It is time for
Swim&Sun for families!
I hope you had a nice and short week everyone? Another long week-end is approaching, so let's get ready to enjoy some sun. Just in time and matching the perfect weather forecast, I thought you might like to get some ideas how to spend the next days. So I had a look through my archive and decided just to translate one of my most popular recommendation from last season, which is always a good one:
Buergerausee (Bürgerausee) in Kuchl
The Buergerausee in Kuchl is super cool and truly an insider tipp. This green play & fun – paradise invites families to have an amazing time together. I still can't believe, I did not know this place before! And really found out only because of a co-insitant.
To start with the best: the entry is FREE. The only thing you have to pay for is the parking.
You have two possibilities:
There is a big parking area next to the lake at the northern bank. Either you park next to the climbing-tower from the Alpenverein or opposite, next to the recycling yard. Bring some coins though, because there is a ticket machine where you need to purchase your parking ticket. Half an hour costs 70 Ct. Daily fee is 7 Euro (May 1 – September 30)
Short parking zone, at the southern end, next to the Hauptschule Kuchl (July 1 – August 31 from 8 – 18 hrs, max. parking allowance 180 minutes)
The Buergerausee is a really lovely created artificial lake with crystal clear water embedded in a wonderful area, where you find beautiful lawns to play and run, sunbath or do a picnic, plus a lot of trees everywhere that offer enough shade. (An umbrella though is always an advantage, if you travel with kids.)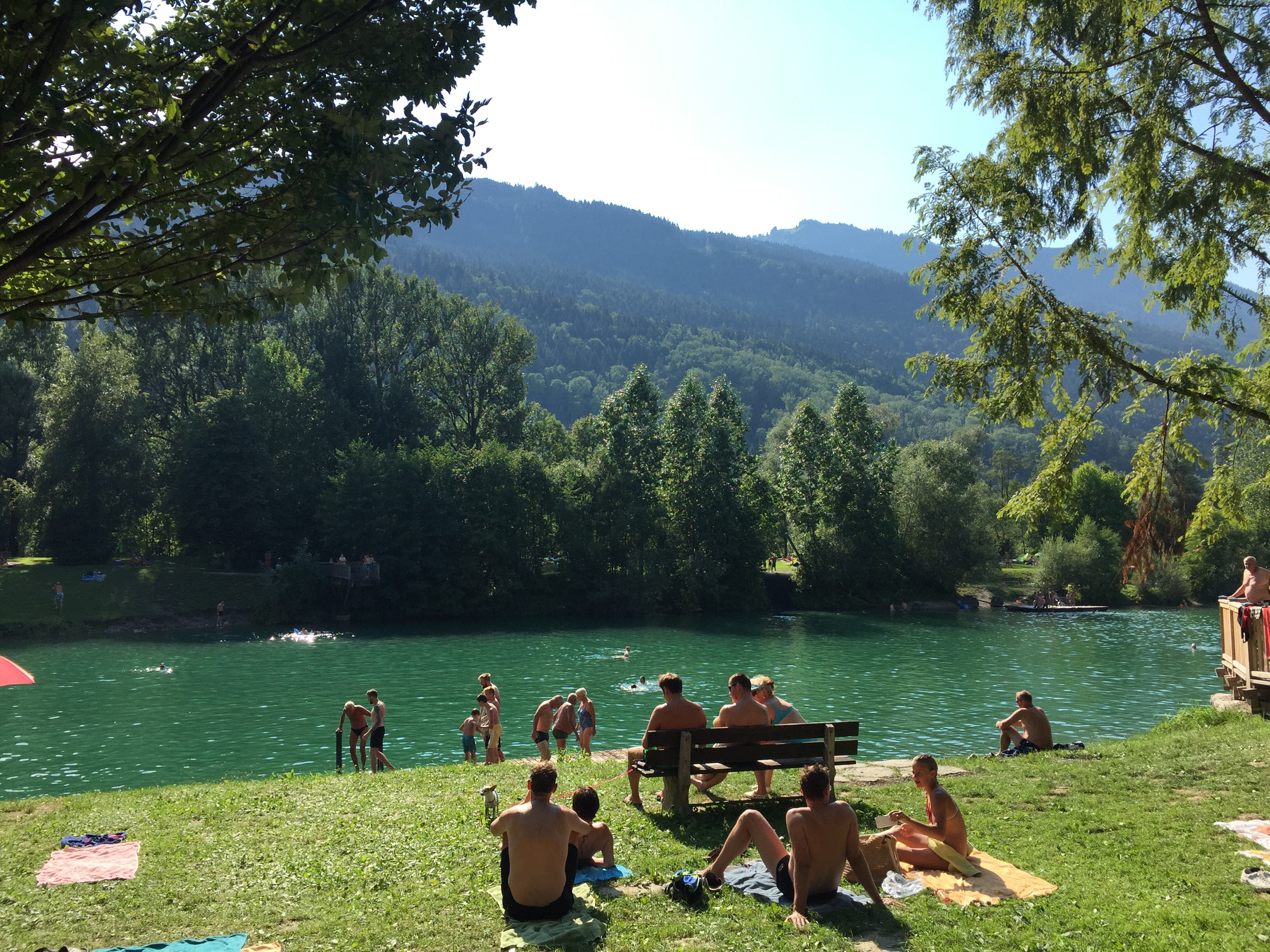 We settled down at the northern bank, next to the great playground. Our kleines Fräulein loves the "Klangobjekt" (big drums and sound bowls, where she can play music and dance) And of course there are swings, a slide and a climbing tower.
At this part of the Buergerausee you can access the lake via some big terrace steps, a quite flat access, but stony.
In the middle of the lake is a little island, easy yo swim to. And it is worth it, because from there you can enjoy the slackline just to the opposite side of the water. And if balancing is not your strength, don't worry, you will fall soft… into the water (just 1 m deep) Give it a try, or two, or three…
Hungry from all the playing and water fun? There is also a little kiosk next to the playground, where you can buy snacks, drinks and ice cream (Schoeller only). During high season they do BBQ sometimes there, which is super nice.
More activities:
We walked around the lake and discovered even more activity opportunities:
Water Playground, southern bank
3 m diving tower und Tarzan-rope at the lake
Beach-Volleyball und Skaterpark
Kneipp facility with therapy stairs and wave beds (terrible translation – but I have no idea how to describe it…. )
Of course you also find changing facilities, toilets and showers on site.
Really beautiful – the Buergerausee! I cannot wait to return. And the good thing is, it is just around the corner. From the Autobahn exit Salzburg Süd it takes you about 15 minutes (Attention: Do not use the highway A1 on Saturdays during holiday season, it could take you an hour. In this case preferable take the Landstrasse, and you get there within 25 minutes)
Enjoy!
PS: As I am not a native English speaker, please forgive me my mistakes and always feel welcome to give me some (gentle) advice or correct me…
The original post in German you can find HERE.